Sharpening an axe can be done on a whetstone or with sandpaper and you can tell how sharp it is by cutting through a sheet of paper. While a heavier axe is better for splitting wood, a splitting axe still needs to be sharp enough to penetrate the bark. When it comes to logging or woodcutting, there is no better tool than a trusty axe though an axe is only as powerful as its blade. 
Sharpening An Axe 
Before you begin sharpening an axe, take a look and assess the blade, looking for dull edges and damage on the blade. Chipped or cut edges will need to be coarsely sharpened, whereas fine sharpening is the way to go if the edge isn't damaged. So ask yourself: Are there chips, dents, or has the head become rounded and dull? Your answer to these questions will determine if your blade needs coarse of fine sharpening.
Coarse Sharpening
In the image below the axe has a chipped and dull blade so will require coarse sharpening.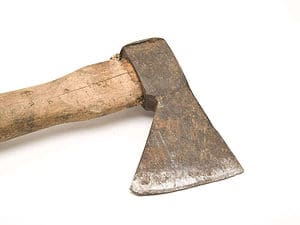 Coarse sharpening will help bring life back into a chipped axe head. To do this, you will need a coarse sharpening stone. A coarse sharpening stone is a handheld 'stone' coated with a diamond or ceramic surface, also known as the grain. The grain type will determine how much material is removed from the axe while grinding. For example, a ceramic sharpening stone will not remove as much as a diamond. 
Fine Sharpening 
An edge that only requires routine sharpening will do with fine sharpening. The image below shows an axe, though rusty, only require fine sharpening.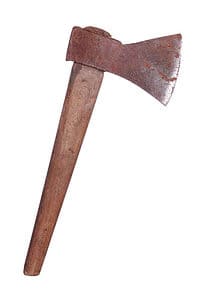 Routine fine sharpening on a whetstone will keep your axe at peak performance. Thankfully, axes are resilient tools that do not require excessive upkeep. You can wipe the blade, after sharpening, with tannic acids found in some woods, such as oak, to keep rust and erosion at bay.
The end result of a coarse and/or fine sanding of axe blade is shown below.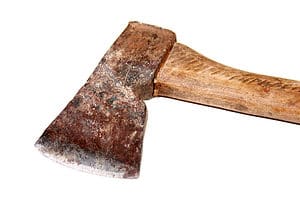 How To Sharpen An Axe 
Different tools require sharpening by a recommended technique, and sharpening an axe is no exception. Some find one method better than another or adapt an approach to their needs, so there is no one-size-fits-all regarding axe maintenance. However, there are a few general tips to follow when sharpening an axe. 
Use heavy work gloves while sharpening an axe to prevent injuries. 
Hold the head of the axe in your lap, facing away from you. Rest the handle against your neck. For most axes, the sharpening angle will be 30 degrees. 
Draw along the edge of your axe with a marker to help you see what has and has not come in contact with your sharpening stone. 
Using your sharpening stone, sharpen in small, circular motions along the blade's edge. If you still see that the marked lines you drew are visible, continue sharpening, as these sections have not been touch yet.
Once you've finished one side of the axe head, switch to the other.
You can clamp the axe if you're working at home with a vice to conveniently focus both hands on sharpening the edge. 
Sharpening An Axe With A Whetstone 
When using a whetstone you need to add oil to the stone's surface while sharpening, as this will reduce the friction and refine the surface of the axe so it is smooth. Sharpening an axe with a whetstone means you are making a motion as if you're slicing away part of the stone itself.
A dedicated honing oil is best when sharpening an axe, although you can also use sewing machine oil. Apply your oil to the stone and edge of the blade, then grind the tip of the whetstone along the blade's edge in small, circular motions.
Alternate between sharpening each side to move the burrs and sharpen the blade. 
Best Whetstone/Sharpening Stone For An Axe
The best whetstones for axes are: 
The Dalstone Premium Set. This set helps achieve an extremely sharp edge. 
Fallkniven DC4 Combination Whetstone Axe Sharpener. This whetstone is a portable sharpener that has two sides/grits. The gold side which is the diamond grite is for sharpening, whereas the ceramic gray side is for finishing the blade.
Norton Abrasives St. Gobain Axe And Hatchet Sharpening Stone. Classic and mobile, this sharpening puck has two grits: 400 on one side and 1000 on the other. 
Gransfors Bruks Grinding Stone. Another excellent, portable puck-style stone that grinds away metal in a flash. This stone is more expensive than others but the abrasive sharpen the blade quickly leaving a nice finish.
Best Grit For Sharpening Axes
When you shop for whetstones or sandpaper to sharpen your axe, you will start to see a lot of talk about grit. The grit of the stone or sandpaper makes a massive difference in how clean and sharp the edge of your axe will be. So, what is the best grit for sharpening axes?  The best sharpening grit for axes is 200-400, 800-100, and 2000.  Some papers and stones may go beyond that 2000 range and climb to 8000. However, 2000 gets the job done for most axes. 
Every wondered about Axes vs. Hatchets – Which Is Better? Read our guide to find out.
Alternate Ways To Sharpen An Axe
Sharpening An Axe With Sandpaper 
If you don't want to spring for an entire dedicated tool to sharpen your axe, you might already have something to get the job done right in your DIY arsenal. For example, to sharpen an axe with sandpaper or a belt sander, you'll want to follow a procedure similar to the whetstone.
You won't be able to reprofile the edge of your axe with sandpaper, but you can still achieve a decent sharpening. Start with a rougher grit and move to finer ones as you finish the sharpening job. 
Sharpening An Axe With Files 
To sharpen an axe with files, you will need a flat or round file. Using the flat file, start by filing away any burrs and sharp edges on the axe's blade. Then, begin with broad strokes, keeping your strokes at 30 degrees to the blade's edge. To maintain a consistent blade shape, always use forward strokes following the contours of the blade's profile.
Sharpening An Axe With A Knife Sharpener
If you've already got a host of culinary tools in the kitchen, why can't you find a dual purpose for them? Some knife sharpeners will work on axes, but not all. Knives are sharpened on both edges, and most knife sharpeners have a fixed angle that doesn't accommodate an axe. However, if you use a whetstone or other sharpening stone for your knives, you can also use them on an axe. 
Frequently Asked Questions
Can Water Be Used On Stone To Sharpen An Axe?
If you're out in nature and need to fix a chip in your blade, a river stone or puck stone and water can sharpen an axe. The method you would use is the same as what you would do when honing with oil. After all, a whetstone is a natural stone refined for this specific purpose. 
-Apply water to the stone and edge of the blade.
-Grind the tip of the whetstone along the blade's edge in small, circular motions at 30 degrees.
-Alternate between sharpening each side to move the chip and sharpen the blade. 
How To Know If The Axe Is Sharp? 
After all the grinding, grits, and oils, how do you know if you've got an axe worthy of chopping? The tried and true way is to use a sheet of paper to test the sharpness of your axe. Hold the paper in one hand and the axe in another. Try to use the axe to cut through the loose end of the sheet. If it can easily cut through, the axe is sharp. 
Do Splitting Axes Need To Be Sharp?
Splitting axes work better when they're sharp.  However, sharpness isn't the only important factor in a splitting axe. Heaviness will help break the wood apart and tends to do more work when it comes to splitting. That does not mean that sharpness can be disregarded when picking out a splitting axe. On the contrary, a sharp axe can slice through tough fibres and twisted wood more quickly than a dull one. The perfect splitting axe balances heaviness and sharpness. 
Final Thoughts
Axes are powerful tools for everything from logging to splitting wood for the fireplace. If you know how to sharpen an axe, you'll keep it at peak performance for years to come.